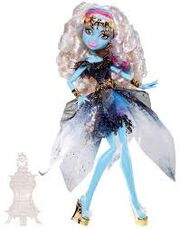 This doll is part of the 13 Wishes: Haunt The Casbah doll line.
Description
Abbey has a black dress covered in shimmering stars and golden cracked ice patterns, there is a jagged collar on the top of her dress and her dress fans out at the bottom to allow room for a light blue skirt and light purple skirt. Abbey has two overskirts, a white glimmery skirt with snowflakes and cracked ice and a black mesh skirt under the white one. She has golden accessories, a golden melting ice headdress with a snowflake slightly to the side, golden melting ice cuff bracelets, a gold necklace with a snowflake pendant, golden ice shard earrings and a golden ice shard belt. Her shoes are gold wedges with white translucent jelly straps, created to look like ice shards. She has baby pink lipstick, gold and lilac eyeshadow, and her hair is in severe curls with a blue and pink braid across the front of her bangs.
Notes
This doll comes with a lamp that is white!
This doll also comes with a stand, a brush and a 13 Wishes card!
This doll is exclusive to Wal-mart/Asda!