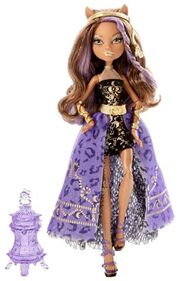 This doll is part of the 13 Wishes: Haunt The Casbah doll line.
Description
Her dress is a black mini dress adorned with metallic golden crescent moons, the halter at the top is golden mesh. She has a three layer overskirt, the first layer is purple organza with golden zippers and moon patterns all over it, the second is a lighter purple skirt with black leopard print, and the third a dark purple and black mesh. She accessorises with a golden earring, with a moon dangling in the centre, a golden zipper headdress, two golden zipper bracelets running up her arms, and a golden belt with a crescent moon buckle. Her shoes are golden wedges, with jelly purple zipper straps. Clawdeen has glittery lilac eyeshadow and purple eyeliner and glittery gold lipstick. Her hair is caramel this time, with purple streak and golden tinsel, she has one braid falling down the left side.
Notes
This doll comes with a lamp that is purple!
This doll also comes with a stand, a brush and a 13 Wishes card!