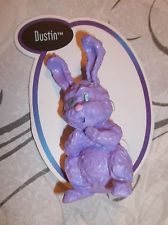 Dustin is Twyla's pet! His fingerine is in the 13 Wishes: Basics doll line!
Description
Dustin is Twyla's pet dust bunny, he is purple with a grey buttoned eye and a lime green buttoned eye and his nose in baby pink!
Twyla's Bio
A dust bunny named Dustin. I found the wind blowing him one day so I rescued and adopted him.