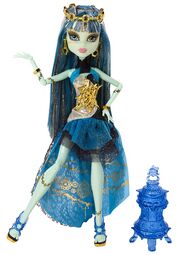 This doll is part of the 13 Wishes: Haunt The Casbah doll line.
Description
Frankie wears a silver, black and blue dress with a sweetheart neckline that wraps around her neck with connected blue and black straps, the base of the skirt is black and blue gold speckled mesh. Her skirt has two layer, the first is a blue skirt patterned with lightning and nut and rivets in a circular pattern, the second is a black and dark blue mesh skirt. Her shoes are black and gold sandles with translucent blue straps with a jelly nut at the front. Her accessories include a golden headdress of nuts, golden nut bracelets, golden nut earrings and a gold lightning bolt belt. To complete the look, Frankie's hair contains bits of blue and her stitches and bolts on her neck are gold.
Notes
This doll comes with a lamp that is dark blue!
This doll also comes with a stand, a brush and a 13 Wishes Card!