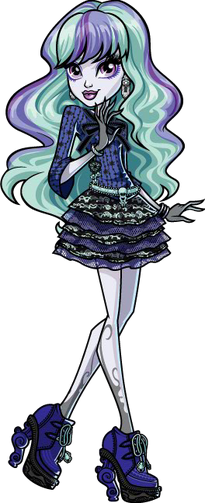 Twyla
is the daughter of the Boogey Man
This doll is part of the 13 Wishes: Basics doll line.
Description
Twyla wears an indigo blouse with a black collar and half sleeves that flares towards the end. The blouse has vertical black stripes with silhouettes of dust mites and dust particles along it, and the the bottom of the collar is adorned with a black bow. Her skirt has three tiers, and each layer comprises of a strip of black fabric with mint green designs identical to those on her legs that emulate swirling dust, hemmed with translucent purple tulle. Her high-heeled ankle boots are navy blue with green laces and black soles. The ends of the laces are dust mites, the heels are shaped like swirling dust, and the shoe has many sitches and buckles over it. She accessorises with a navy blue ball clasp purse with a black handle, moulded ornamental patterns, and a painted mint green dreamcatcher in the shape of a Skullette; a mint belt with a skullette buckle and a keyhole beneath it; a mint bracelet with a mini dreamcatcher charm on her right hand; three bracelets on her left hand, in alternating order of colour, from pink to black to pink. Her makeup is fading blue eyeshadow and pastel pink lipstick. She has bangs and her hair is styled in gentle waves
Personality[1]
Twyla is very shy and often Misunderstood, this results in her hiding in the shadows alot.
Notes
This doll comes with a pet, a stand, a diary and a brush!