Whisp is the shadow sister of Gigi Grant.
This character is part of the 13 Wishes Movie.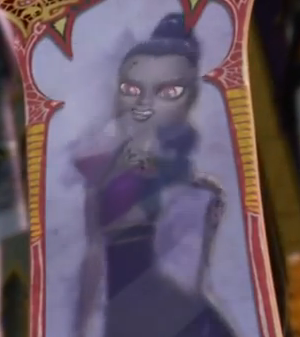 Description
Gigi wears a black and piurple top with black trimming, and angular sleeves and a V-neck. Her knee-length black pants are baggy. She accessorises with gold ornamental jewelry such as matching bangles and dangling earrings,. She also has markings on her neck which is a Henna tattoo of a Scorpion, That is black. her hair is styled in a braid that resembles a scorpion's tail, and her eyes are Dark Red.
Personality
Whisp Is Portrayed as Clever, mischevious and funny and bursting with new ideas. She is, however, also the jealous type and possesses an amount of magic of her own.